Have you been considering adding a deck to your home but are still on the fence as you wonder if the benefits are worth the investment? Here are a few reasons you need to hire your St. Joseph handyman services to build your custom deck. Some of these reasons are sure to surprise you.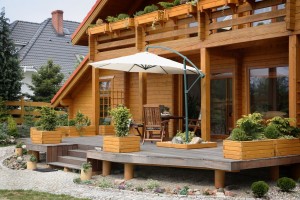 Added Value– Like many other home improvements, a new deck can increase both the value and the saleability of your home. If you plan on putting your home on the market in the near future, a well-maintained deck is a huge selling point. Potential buyers will remember your house over others that do not have decks.
Aesthetics– A deck will add an architectural interest to your backyard like no other feature can. Modern decks are far more than just a simple rectangular slab of pine. Today's decks can be built out of several types of materials including treated lumber, composite materials and exotic hardwoods. There are patios out there like look real good, but there is just something that much more special about a structure that raises from the earth to create a whole new level of awesomeness.
Entertainment– Decks are great for having backyard birthday parties and summer barbeques. Add a grill, music and a few friends and your deck is the place to be. There is just something about sitting out of your deck, sipping iced tea and chatting among close friends and family. Decks create memories.
So make up your mind already and give us a call. That new deck you want isn't going to build itself.